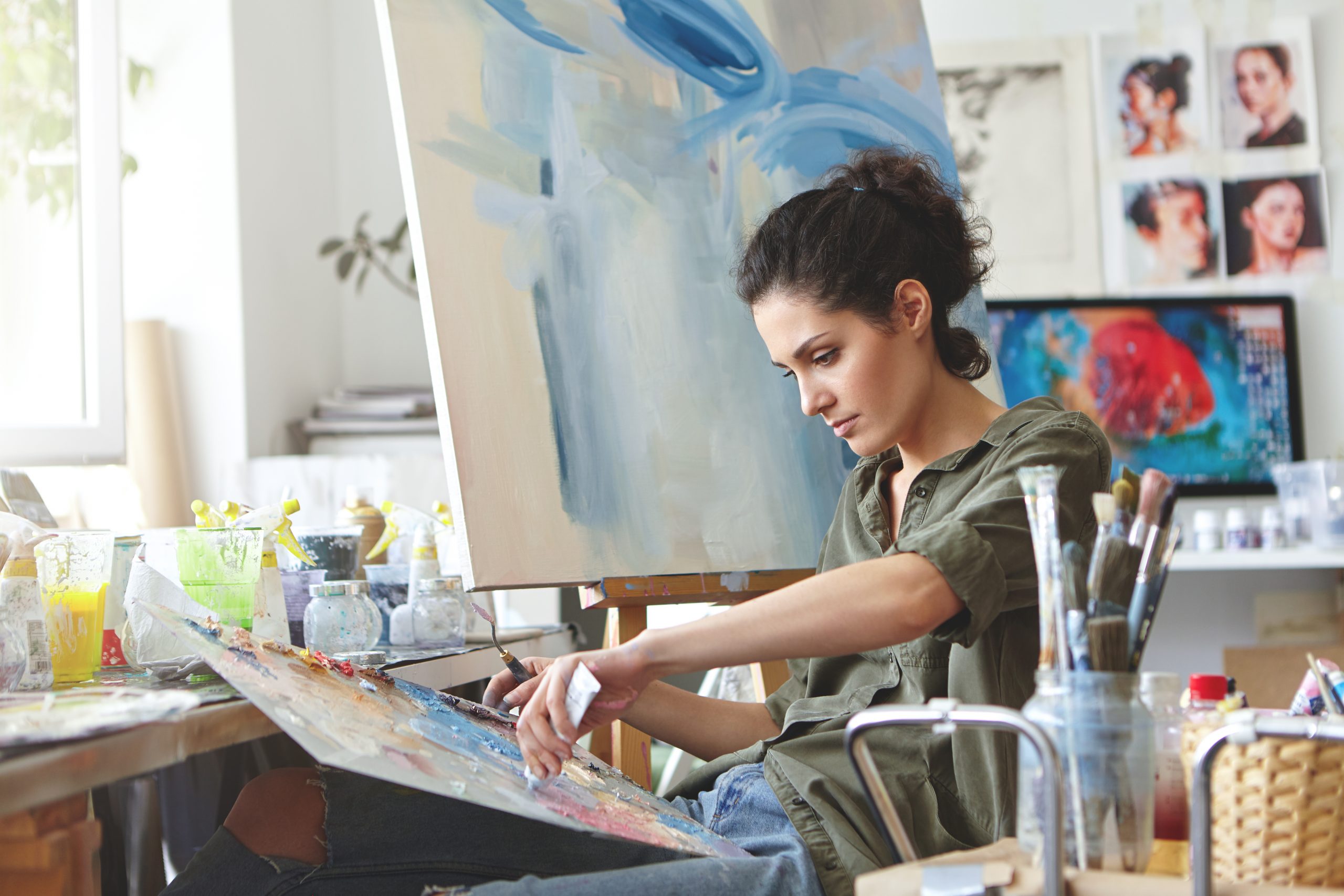 An art foundation course is a transitional year that bridges the gap between secondary education and an undergraduate course. Courses are usually full-time, beginning in September and lasting for one academic year. Most universities will expect you to have completed an art foundation course to further your knowledge and skills before undertaking an art degree.
Why apply for an art foundation course?
Build or prepare a portfolio for undergraduate degree applications

Transition between secondary education and an undergraduate course, developing the independent learning skills necessary to study a creative subject at undergraduate level

Network with like-minded people

Experiment, develop and explore your practice and methods

Specialise in a specific area or learn which field you would like to explore
An art foundation course can act as a standalone qualification for those wishing to subsequently join the workforce. Students might choose to complete an art foundation year if they are not yet sure if they wish to commit three years to studying an art-related subject at university. All students who wish to study a fine art degree are obliged to first complete an art foundation course.
Where can you study an art foundation course?
Generally, the institution at which you have completed your foundation year is not important – what matters is that you have developed your artistic skills and portfolio throughout the course.
You may choose to study at a further education college or a university, with the latter often offering a combined course of an art foundation year built into the first year of a 4-year undergraduate degree. In either case, you will need to apply directly to the institution. 
Art foundation courses are competitive, so it is advisable to apply to a first choice and at least two others, if not more. Popular London universities for art foundation courses are: University of the Arts London (UAL), Ravensbourne, Kingston, London Metropolitan and Goldsmiths, among others.
What should you expect from the course?
Art foundation courses are demanding and you will be expected to work hard. Indeed, it is not guaranteed that you will continue your educational journey at the institution where you choose to study your foundation course. It will however be a good opportunity to test out whether the style of teaching and facilities at the institution suit you.
The basic structure of an art foundation course is: firstly, an exploratory phase of experimentation; secondly, a pathway stage of specialisation; and thirdly, a confirmatory stage where the student embarks on a major project or exhibition. All courses also include a contextual element and written assignments, to help students understand where the artwork is situated historically and theoretically.
Examples of specialist pathways include: fashion and textiles, fine art, graphic communication, 3D design, and architecture. Or you can take the diagnostic pathway if you are not yet sure of your specialism.
Students should expect hours similar to a full-time job (Monday to Friday 9.30-4.30pm) on an art foundation course. This would involve studio practice, workshops, lectures, seminars, visits and personal study time. Courses will consist of group projects as well as independent work. Your final diploma may be classed as a pass, merit or distinction.
How should you choose where to apply?
There are a great number of options. In order to choose, consider the following:
Do your research 

Attend open days

Look at the course content  – does it cover the areas you are interested in?

Where is the university or college located?

What facilities are available?

What are the class sizes?

Are the tutors artists/designers themselves?

What do students go on to do?

Are there trips or visits built into the course?

How is the course assessed?

How much theoretical work is there?
It is vital that you check application deadlines and entry requirements for the individual institutions.
How much does an art foundation course cost?
For home students in the UK, if you are under the age of 19 on 31 August of the year you start the course, there is no fee. If aged 19 or over, there will be a cost. At UAL, the home fee is £5,280 if aged 19 or over on 31 August of the year you start your course, while for international students the fee is £18,850. Costs vary between institutions so check the fees for the universities or colleges that you are interested in applying for. 
How can you maximise your chances of being accepted onto an art foundation course?
Admissions tutors are looking for students who are able to demonstrate not only their artistic ability but also their commitment and desire to develop their skills.
Have everything prepared for December before you wish to start the course. Interviews usually take place in February or March.
On applying, universities or colleges will require:
Academic transcripts

Evidence that you meet the English language requirements

Proof of identity

Personal statement

Portfolio
Generally, institutions ask for minimum 1 A Level or equivalent AND 3 GCSE passes at grade 4 or above.
Personal statement
Again, check the institution's requirements, but in your personal statement you could address the following questions:
Why do you want to study an art foundation? 

What are your particular interests/what type of work do you wish to do on the course? 

How does your current work support your programme choice? 

What do you hope to gain from this course?

What are your specific skills?

Which artists or designers have influenced your work?

Do you have any relevant work experience?

What are your other interests?
It is important that you redraft and proofread your personal statement. You may wish to enlist the help of our personal statement tutors on content and structure.
Portfolio
Your portfolio is a key part of your application. It should demonstrate your interests, commitment to the subject, research, curiosity, creativity, imagination and focus. You should include a varied selection of work, such as direct observation, mixed media, work inspired by other artists, work relevant to your specialism, developmental pieces, works in progress, sketchbooks, recent pieces and ideas and annotations. But remember, quality over quantity, and check the portfolio requirements of individual institutions. See this post for more advice on building a strong portfolio.
Interview
Some institutions will interview while others will not. If the institution does not interview, your portfolio should speak for itself. 
In an interview, you would be expected to talk about your portfolio. In order to prepare for an interview, consider the following:
Think about your portfolio – how has it evolved? What materials and processes have you used? What could you explore further? What is the meaning of the piece?

Research the university and course

Do a mock interview

Be polite and well-presented on the interview day
Here are some example interview questions:
Why have you chosen this institution?

What do you know about the course?

What are the strengths and weaknesses in your work?

What is your favourite piece from your portfolio and why?

Who is your favourite artist or designer?

Which galleries, exhibitions or museums have you visited recently?

What are your future career plans?
Ultimately, admissions tutors are looking for enthusiastic students who show knowledge of the course and subject, talent and motivation.
As always, our educational consultants and specialist art tutors are on hand to assist you with your application.