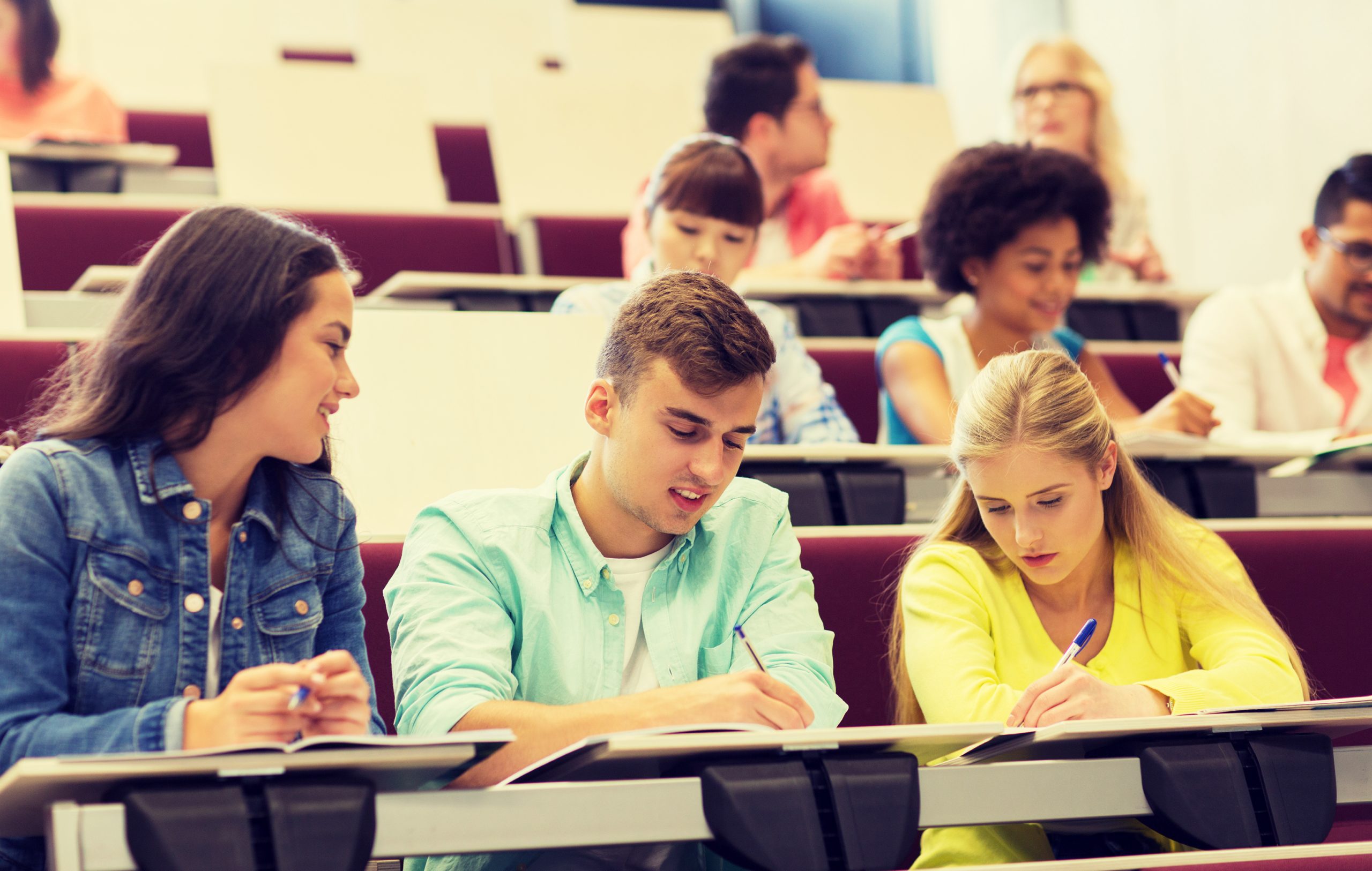 What is the International Foundation Year?
The International Foundation Year (IFY), or International Foundation Programme (IFP), is a year-long programme designed to prepare you for university entrance, bridging the gap between high school and undergraduate study. The course will help you to improve your level of English and gain valuable academic study skills. Successful completion of the course will mean you can subsequently enter the first year of undergraduate study, provided you meet all of the requirements for admission.
Who is the International Foundation Year designed for?
The IFY is suitable for prospective students who do not yet meet the entry requirements for an undergraduate degree, as it focuses on teaching areas most relevant to said degree. You may need to undertake an IFY if your level of English is not high enough for direct entry onto an undergraduate programme, or if your high school qualifications are not equivalent to UK sixth-form qualifications. 
Why study the International Foundation Year?
The IFY is one of the most recognised foundation courses globally. On the IFY, you will:
Improve your level of English through intensive academic English tuition, tailored to your discipline area

Enhance your academic study skills including academic writing

Gain insight into and specialist knowledge of your chosen subject

Be able to progress to undergraduate study (on successful completion of the course)

Receive emotional and academic support from your university

Increase your employability by gaining the tools you need to succeed at university and in the competitive job market
Many universities, such as KCL, Bristol and Warwick, guarantee you a conditional offer for their undergraduate degrees upon successful completion of the IFY, although some undergraduate programmes have additional requirements for which offers are not guaranteed.
In 2021, 86% of students taking UCL's Undergraduate Preparatory Certificate (UPC) progressed to UCL or another leading UK university. In the last four years, approximately 90% of students have successfully completed the IFY at St Andrews, making them eligible to progress to an undergraduate degree at the university.
What should you consider before applying for the International Foundation Year?
Note that the IFY is not a standalone qualification, but a pre-university course equivalent to UK sixth form qualifications. Hence, the IFY is not universally transferable. Not all universities recognise the IFY, but an increasing number accept it for entry onto their programmes. Check that the university you wish to attend accepts the IFY for entry to undergraduate study. 
If you wish to change universities for your undergraduate degree after studying the IFY, some courses may not be deemed academically equivalent to your prospective university's own IFY. Hence, if you know where you want to study for your undergraduate degree, it is advisable to study the IFY at that university.
Be warned, the IFY is academically challenging. It is an intensive course – expect a major step up from high school study. However, there won't be the same depth of study as A Levels or IB.
During your IFY, you will need to apply for an undergraduate course via UCAS alongside sixth form leavers in order to progress to undergraduate level study, unless your IFY was integrated into a 4 or 5 year undergraduate degree.
IFYs have a range of different pathways to choose from, including in the Sciences or Humanities. If you apply to the Biological Sciences and Psychology route at Warwick, your Biology (or related) grades will be required to be at a high level and achieving specific grades in Biology may be a condition of your offer. Students on this route would typically be looking to progress to a range of undergraduate degrees such as Biology and Biomedical Science, Neuroscience, and Psychology.
What are the entry 

requirements for the 

International Foundation Year?
The IFY is designed for those whose first language is not English and who are not eligible for direct entry to the university's undergraduate degrees because their school qualifications are not accepted.
As part of the application process, you are generally required to submit a personal statement, transcripts of your high school qualifications and proof of English language proficiency. Some IFYs, such as UCL's UPC, require you to take exams.
Personal statement
In your personal statement, you should explain your reasons for applying to the course. Why do you wish to study at that particular university? Why have you chosen that particular pathway? Convey how you are well-suited for the programme and what you will contribute to the course. You should also indicate which undergraduate programme you hope to progress to, and explain your career ambitions. 
For KCL, the personal statement should be a minimum of 4 paragraphs, for UCL 500 words maximum and for Warwick 600 words. For Bristol, no personal statement is required.
Transcripts
You will need to submit up-to-date academic transcripts to show that you have successfully completed your high school qualifications (usually up to equivalent of GCSE level). Check the country-specific entry requirements on the respective university IFY page.
Provide your academic certificate and ensure the grades are listed. You should get certified translations of any documents that are not in English.
Proof of English language proficiency
You must submit evidence of your English language abilities in the form of an English language test certificate. The test should be taken within two years of the start date of the IFY. You should take the IELTS Academic for UKVI, rather than just the regular IELTS. 
The Extended King's IF is for students with an IELTS score of 5.5 with no element below 5.0. This option starts in August with an additional 5 weeks of online intensive academic English preparation. The King's IF is for students with an IELTS score of 6.0, with no skill below 5.5. For St Andrews, the IELTS Academic minimum requirement is 5.5 overall, with minimum 5.0 in the components. 
Some courses, such as Warwick's IFP, may accept submission of an application without an English language test and will make an offer conditional on your achieving the desired score in an English language test ahead of the start of the course.
Academic reference
Some universities, such as UCL and St Andrew's, will ask you to submit an academic reference from your high school.
You may also need to supply a copy of your passport as part of the application. You should  check the age requirements and how recently you should have obtained your academic qualifications as these may differ between universities.
How much does an International Foundation Year cost?
The tuition fees for an IFY are generally lower than tuition fees for a degree course for international students, although it depends on the institution providing the course, the city in which it is based, and the subject being studied. For example, KCL's International Foundation in Biology & Chemistry costs around 25% less for the 2022-2023 academic year than the fees for international students studying BSc Biochemistry undergraduate programme per year. However, the IF in Liberal Arts & Social Sciences costs the same as the IF in Biology & Chemistry, which is equal in price per year to the BA English programme.
The most prestigious London-based universities are often marginally more expensive than universities elsewhere in the UK. Top universities may charge upward from £20,000 per year for the IFY. 
There are also administration costs involved – some universities, such as UCL, charge a small fee for submitting an application.
Where can I study the International Foundation Year?
Many universities offer their own IFY, including KCL, UCL, St Andrews and Warwick. Organisations such as INTO and Kaplan Pathways provide IFYs for students looking to study at Manchester and Bristol respectively.
UCL is the only UK university in the top 10 of the QS World University Rankings 2022 with its own foundation year. UCL's UPC for Science and Engineering (UPCSE) is for students who want to study degrees in Engineering, Life Sciences or Mathematics and Physical Sciences. There are two compulsory modules and two optional modules. The admissions team will check your school transcripts for the 3 most relevant subjects you have studied at school for the UPC pathway you're applying for, as well as your overall grade at the end of each academic year.
The UPC application process involves three stages: submitting an application including supporting documents, taking entrance tests and an interview (if invited). You must take entrance tests in the two optional modules you intend to study. Each test is one hour long.  If you achieve 50% or above in each entrance test, the UPC admissions tutor will assess your application and make a decision on whether to invite you to interview. 
What are the deadlines for applying for the International Foundation Year?
For a number of IFYs such as Bristol, Warwick and St Andrews, the deadline is generally at the end of July – this year (2022), the deadline falls on 31st July. However, you should aim to apply well in advance of this date if you require a student visa. The deadlines for King's and UCL for equal consideration are in April.
How can Bruton Lloyd help?
If you need any assistance in preparing your application, we are here to help. Our knowledgeable educational consultants can offer guidance throughout the application process, including personal statement support. Do not hesitate to get in touch for personalised help with your IFY application.